The Best Halloween Board Books for Toddlers
Are you looking for the cutest Halloween books for toddlers? I got you covered! Look no more – I've curated the best board books with just a pinch of spook to add to your toddler's book collection.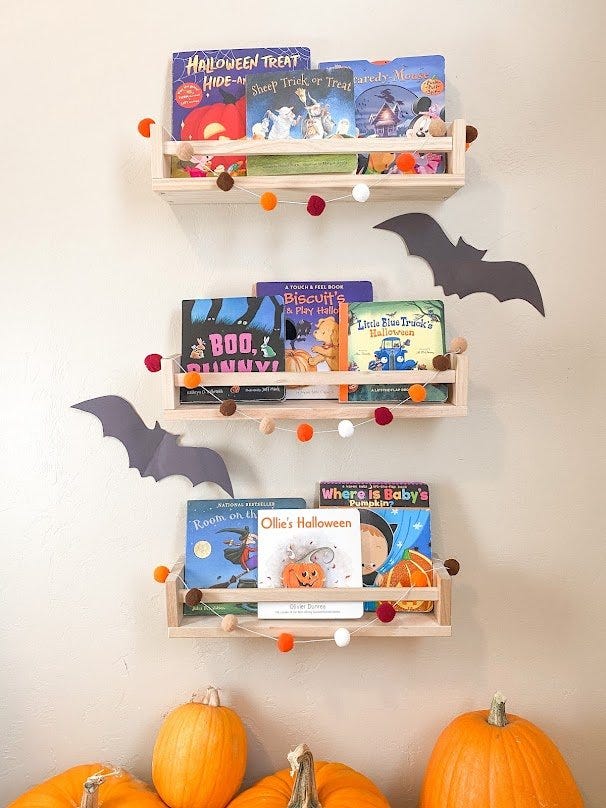 Since my oldest was a baby (now seven years old) we would go to the bookstore and add a couple of board books to our spooky collection. It's fun to add seasonal books to a collection and see it grow over the years. I love pulling out the box of Halloween board books each year and taking a trip down memory lane.
In this Halloween-themed list, I've included some board books that I know you and your little ones will enjoy. You'll see some new books with fun interactive features and of course…a few classics.
Halloween Treat Hide-and-Seek by Chronicle Books, illustrated by Olivia Aserr
Brand new from Chronicle Books! This book is just darling with interactive features that are great for fine motor skills. On each page, your toddler will spin a wheel to land on a treat they like. Then they can lift the flaps and guess which character on the page got the treat! "Halloween Treat Hide – And – Seek" was a hit with my toddler and requested to read it on repeat.
Room on the Broom by Julia Donaldson, illustrated by Axel Scheffler
From the creators of "The Gruffalo", this beloved book is a must have in our Halloween collection. "Room on the Broom" is a tale of inclusivity, friendship and determination. The witch and her cat are flying through the air when suddenly the wind picks up and some of her items go missing. Three delightful animals help her find her things but ask if there is room on her broom. This book makes a great family read aloud!
Scaredy – Mouse by Courtney Acampora, illustrated by, Loter Inc.
If your little one is a Mickey Mouse fan you have to get this one! Mickey and his friends celebrate Halloween together and includes a series of interactive push, pull, lift and spin features throughout the story. This book is super fun and both my boys have loved this one for years.
Boo, Bunny! by Kathryn O. Galbraith, illustrated by Jeff Mack
First time trick or treaters? "Boo, Bunny" is the cutest book about two brave bunnies who trick or treat for the first time. Toddlers love the rhythmic text and high contrast illustrations! This is one of our favorite spooky board books that I bought for my oldest to celebrate his first Halloween.
Little Blue Truck's Halloween by Alice Schertle, illustrated by Jill McElmurry
Little Blue Truck is on the road again but this time he's picking up his friends to attend a costume party! Lift-the-flaps to uncover each animal friend in their costumes. But what will Blue Truck dress up as? Beautiful Autumn imagery and rhyming text make this an excellent board book!
Sheep Trick or Treat by Nancy E. Shaw, illustrated by Margot Apple
If you're familiar with the classic "Sheep in a Jeep" book you will love this one! In this spooky and whimsical story, the sheep are going trick or treating. As they return home with their goodies…something is lurking in the woods! This book really captures the essence of Halloween, and the illustrations are so beautiful. It's definitely a great one to add to your collection.
Halloween Sound Book by Usborne Books & More
There are five fun sounds to discover in this delightful little Halloween story. Join Cat and Dog and their friends as they get ready for the Halloween party – and try out their best spooky noises! There are pumpkins to spot on every page too. Press the button on each page to hear wonderful sounds and noises. The beautiful illustrations complement these beautiful first picture books for young children with fully embedded sounds.
Ollie's Halloween by Olivier Dunrea
Ollie's Halloween is a board book based off the Gossie & Friends early reader series. In this book, Ollie much rather eat treats on Halloween than join in on scaring. This book takes you along to meet all of Ollie's friends and what they are dressed up like. Ollie is a mummy, Gossie is a wizard and so forth. It contains darling illustrations and toddlers will love the antics of all the little critters.
Where is Baby's Pumpkin? by Karen Katz
Nothing is cuter than a Karen Katz board book, am I right? With her trademark colorful style and sing-song text…this book hits every mark in our book. We have loved this book so much that over the years we've had several copies! Little ones will want to read this one again and again. Toddlers will lift the flaps as they try to find baby's pumpkin. Is it under the witch's hat? Perhaps under the table?
Don't Push the Button! A Halloween Treat by Bill Cotter
This book is a total hit at our house, and I know your littles will love it as well. Get ready for a fun interactive board book that has prompts like, push the button, clapping and say, "BOO!" etc. I Highly recommend this book if you are looking for some giggles during this spooky season.
Poppy and Sam's Halloween Party by Usborne Books & More
Rusty the dog has gone missing! Can Poppy and Sam find him in time for their Halloween party? Little children will love looking through the peek holes and touching the textured pages in this charming book with bats, pumpkins, spiders, and the adorable animals of Apple Tree Farm to spot on every page… and of course, the little yellow duck!
Construction Site Gets a Fright! by Sherri Duskey and AG Ford
Lift the flaps to turn spooky scares into silly surprises, as the trucks find out that they are all safe and sound—and learn that laughing with friends is the best way to turn fright into fun! Sherri Duskey Rinker's rollicking, rhyming text pairs perfectly with heartwarming illustrations by AG Ford to deliver an interactive Halloween tale that will delight little readers and their families.
Biscuit's Pet & Play Halloween by Alyssa Satin, illustrated by Pat Schories
An oldie, but a goodie! This was one of the first Halloween board books I bought my son. Follow the sweetest puppy, Biscuit as he explores his surroundings on Halloween. This book has sensory features on every page! There are touch and feel textures throughout the story that toddlers love. (Fuzzy black cat, sparkly costume etc.) Simple and bold text are perfect for babies and toddler's eyes.